On Tuesday Dec. 20, Scream Queens aired it's season two finale with the usual perfect combination of slasher horror and witty humor. However, will this be the show's final hoorah? And yes, there are a few SPOILER ALERTS ahead.
Last night's episode did not hold back on the twists and turns. From the deaths of both remaining Green Meanies (Taylor Lautner and Kirstie Alley) and the return of Denise Hemphill (Niecy Nash), loyal fans emotions were all over the place. Yet, one of biggest surprise moments involves Chanel No. 6's--aka Hester--sudden disappearance. Unfortunately, nothing tops the shocking return of the red devil at the episodes Yet, who is this new red devil? It's clearly someone that has some dirt on Kappa Kappa Tau (KKT), but I don't think it would be a face we've seen during this current season. Personally, my money is on Grace (Skyler Samuels) because her father (Oliver Hudson) died in his pursuit to kill the Chanel's. Plus, the Chanel's are the main reason that she checked into a mental institution. However, I'm not so sure that Samuels will return so quickly since she decided to put a pause on stardom to finish her schooling at Stanford University.
Although the final episode of season two was a nice way to wrap things up while prepping us for the return of the red devil, it may not be enough to save the show for a third season. Despite how entertaining the show has proved to be, it unfortunately isn't safe from a potential cancellation.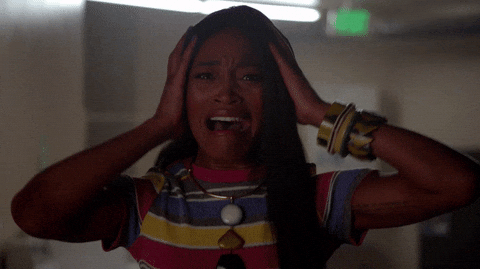 Scream Queens hasn't been the wildly successful endeavor that FOX had anticipated it being. With big names like Emma Roberts (Chanel Oberlin) and Jamie Lee Curtis (Dean Munsch) attached during the show's freshman season, it still didn't prove to be a major ratings draw. Although the millennial-targeted show was initially welcomed to 2.4 million views during the show's premiere, it has managed to slump in ratings mainly within it's second season. Surprisingly, the show had dropped viewership by a full 50 percent during the season two premiere. As of now, the show averages at 0.6, making it the network's lowest rated show. Season two's poorest performing episode to date was the ninth episode, entitled "Lovin the D".
The show has generally faired well with on demand and online streaming, but this means absolutely nothing and will not save the show from being axed. Sure, FOX definitely values Ryan Murphy (especially because he generally hit's it out of the ball park with his shows). However, Scream Queens has proved to be more of a miss and rare exception for Murphy. At the end of the day, money talks. If a show isn't bringing in the views, Hollywood will gladly show them the door no matter how special and fantastic a show is (i.e. Freaks and Geeks and Happy Endings).
Despite rumors circulating around the show's cancellation, critics and fans alike believe that Lea Michele's Hester could potentially be the show's saving grace. Although there are now few sociopathic characters featured on Scream Queens, Michele's proves to be a true gem. As much as fans love Chanel Oberlin's snarky and nonsensical comments, her character is becoming a bit mundane. Zayday Williams (Keke Palmer), Dean Munsch, and the other season one veterans haven't deviated or evolved too much either (with the exception of Chanel No. 5). Plus, it didn't help that Chad Radwell (Glen Powell) was killed off fairly quickly this season and Denise Hemphill's presence was minimal as well. Therefore, from the moment Hester made her comeback, it was easy for her to steal the show like she did towards the end of season one (Hester is a fan favorite, too). Unfortunately, one character can't save a sinking ship.
Scream Queens's sophomore season wasn't bad. But, it could have been much stronger. FOX, alongside other major networks, will reveal which shows are safe for renewal and which will no longer see the light of the day. If you're a mega-fan like me, you're going to truly miss Chanel Oberlin and her spot-on insults week after week, Denise Hemphill's sublime one-liner's, and Hester's sociopathic nature if the show is cancelled. All we can do is wish for the best, even though our chances at seeing a third season are slim.